Hameco's casting workshop
Introduction
Hanoi Mechanical Company Limited – HAMECO was established since 1958, serving domestic and international demands from a wide range of industries of Hydroelectricity, Thermoelectricity, Cement, Steel laminating, Irrigation, Petroleum gas, Auxiliary industry…
In 2015 Hameco has completed the moving project of new full – equipped and modern factories (area: 160.000 m2) from center of Hanoi to Thuan Thanh 3 Industrial Zone, Thanh Khuong, Thuan Thanh, Bac Ninh (about 30 kms from Hanoi).
Hameco has a comprehensive manufacturing process from Design, Casting, Steel structure, Machining, Heat treatment, and Assembling to Full equipment manufacture for various industries.
Hanoi Mechanical Company Limited manages and monitors strictly according to ISO9001-2015 standards, we follow all standards to manage the quality of our casting products. There are also first-rate casting technicians and engineers, who provide reliable, highly skilled products to customers.
Equipment, technology and casting capacity of Hameco
Hameco's casting workshop has two Furan lines (Australia) and automatic green sand mold lines (Germany - USA).
Furan resin sand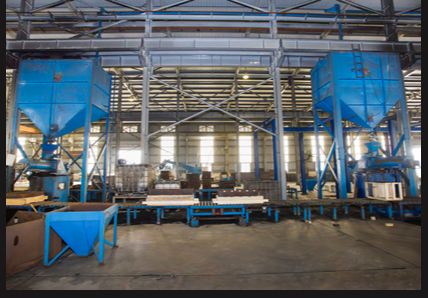 (Furan resin sand)
Furan resin sand is a self-hardening sand which is suitable for metal casting products and require high surface quality, complexity, small tolerances, ranging from dozens of kilograms to tens of tons.
Appropriate product: The part is heavy and complex.
Suitable materials: Gray cast iron, cast iron, steel
Weight: Max 8000kg / piece
Size: 3000x3000x3000mm
Casting capacity: 9000 tons
casting greensand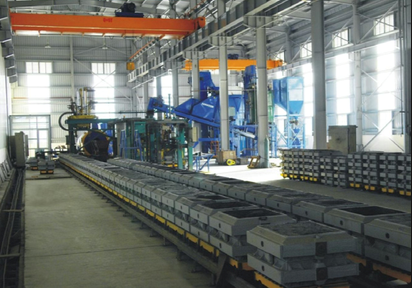 (casting greensand)
The method of casting greensand is the cheapest, suitable for products that require strict surface quality.
Products: Gray cast iron, ductile iron
Weight: 1-30 kg / pcs
Mold size: 450x600x400 mm
Casting capacity: 3000 tons / year
Inductotherm furnaces d. Surface treatment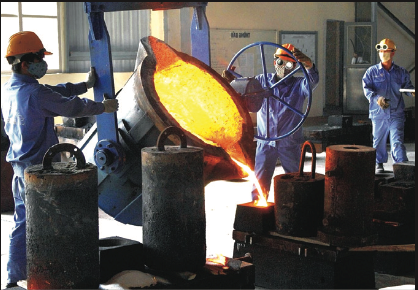 Inductotherm furnaces: 03 furnaces with 06
Surface treatment: Hameco is investing new machinery equipments for shot blasting the product surface with high capacity and efficiency.
Automatic shot blasting system SINTO (Japan) - New 2018, model: KSB-25A, design capacity: 600 tons / month, billet weight: 5 tons, chamber size: 2600x2400x4430mm, time Spraying time: 15 minutes / batch, features: 04 nozzles, automatically rotates around the axis, automatically displaces the workpiece vertically so it can shoot in all areas of cast.
Hameco's strength: Hameco can do casting large and small counterweight products
Standards: JIS, GOST, DIN, ISO, TCVN, GB ...
Size:
Max: 3000x3000x3000mm
Min: Thickness of wall: Steel 8mm, Cast iron 4mm
Product weight:
1 - 3000 Kg (Gray cast iron FC150- FC200)
1 - 8000 Kg (Gray cast iron FC250-FC300)
3 - 1000 Kg (Cr-Ni wear-resistant gray iron (Cr ~ 11-28%) 3 - 1000 Kg (Cast iron FCD450- FCD700)
3 - 1000 Kg (Steel alloy)
Export markets: Japan, Korea, UK, Europe, USA, Canada, ...
Since its establishment in Vietnam in 1958, Hameco has been involved in manufacturing.
Casting Steel has the same toughness as steel although it is a cast product.
Tensile, durability .. are many times higher than gray cast iron (FC)
Because of the good toughness, many of our products are used in the machine parts which requires high durability.
In addition, our steel casting products are more highly appreciated than those of other companies due to their excellent elongation and machinability.
- Material: FCD450 ~ 700
- Quantity can meet: Maximum 500 tons / month
- Guaranteed delivery time
Focused on environmental issues:
Casting workshop is designed according to standards, ensuring focus on environmentally friendly production, air quality is focused by investing in dust filtration systems and sand re-use equipment